HostingRaja gives one of the best Java hosting and server solutions for Java applications on various platforms. You can easily manage your java application using the servers provided by them. Here you will find the customer reviews of present java customers. You can also give your reviews about your experience after purchasing the Java Hosting Plan.

The advantage of using Java hosting is that it has no portability issues and the same code works unstrained on both Windows as well as Linux servers. It is suitable for everyone, from beginner to technical experts.
Java hosting is the ability to run and manage Java Server Pages. Java Server Pages (JSP) is a server-side language which produces dynamic and interactive web pages with the use of simple tag-based codes inserted into HTML and XML. Hostingraja has been providing the best Java Hosting at an affordable price, also with best features.
Here is the price plan of Java Hosting by HostingRaja: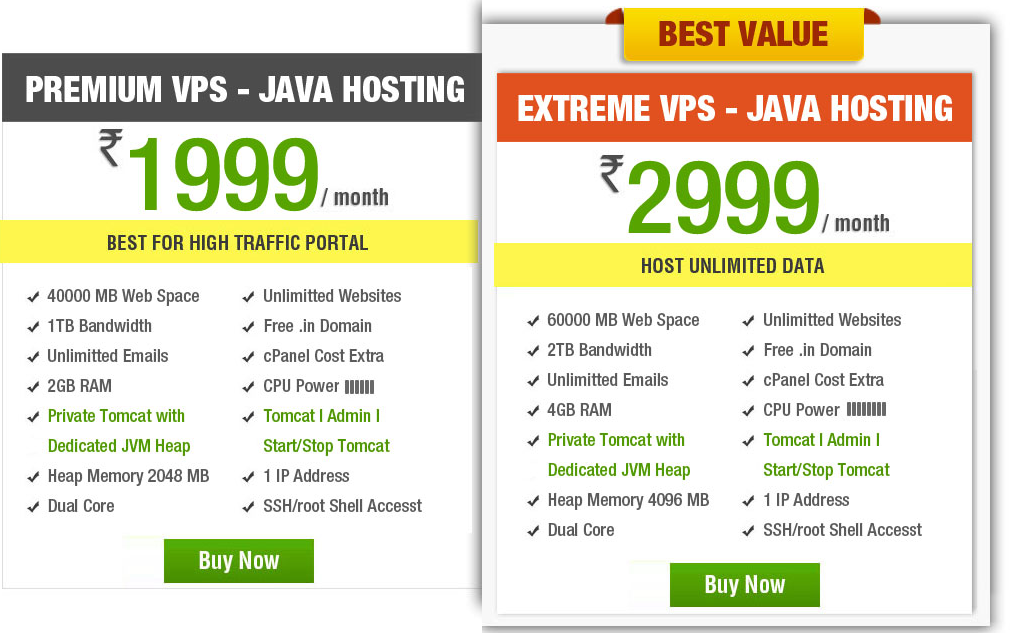 Here are the features that you get when you buy HostingRaja Java Hosting:
JDBC Driver – to connect with database

JBoss – Web Server

Java Hosting with MySQL & Postgres support

POP3, IMAP and SMTP support

Multiple WAR file deployment for Java applications

Multi-domain support

Glassfish Server

Unique easy to use control panel

Start and Stop using Web Interface

Checking the Error log and tomcat log using web Interface

JVM heap memory – Option to increase the heap memory

Individual port for Tomcat applications, Unique port number to each client

FTP accounts

Java Servlet Support

JDK and JRE support, and a lot more features.
Hostingraja also provides highly experienced support team, which works round the clock to resolve their customer queries. Hostingraja also offers 99.9% uptime guarantee with several other add-ons. HostingRaja also provides everything needed for your website to run successfully. It comes with pre-setup and pre-build to launch in their application. It basically plugs and plays for any java hosting.