Shared Hosting service is a kind of web hosting service offered by a hosting company where many websites will be connected to one webserver to be available on the internet. This is an affordable hosting option. Also, it can reduce the cost of server maintenance. When it comes to shared hosting plans in India Hostingraja hosting solutions are the best in the business. At Hostingraja they provide a shared hosting option for all categories like small, medium, and large scale enterprises. Hostingraja provides hosting plans according to your website requirements. Further, their shared hosting plans come with outstanding features and also easy to use 
cPanel
. 
Here are few main Shared Hosting features provided by Hosting Raja:
UNLIMITED Domains.

UNLIMITED Sub Domains.

UNLIMITED Email Accounts.

UNLIMITED MySQL Databases

UNLIMITED cPanels

UNLIMITED FTP Accounts

SSL Certificate Available

Advanced Password Protection

Backup & Restore Your Website

Domain Name Checker, etc.
In terms of price Hosting Raja provide the best and affordable Shared Hosting plans, so that all people who are looking to host their website can afford easily. Here are the Shared Hosting Plans from Hosting Raja: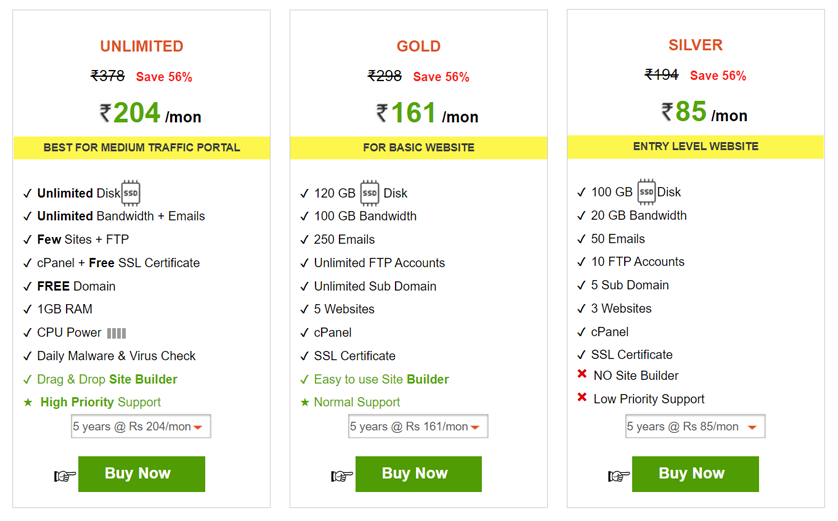 Hosting Raja has been providing hosting for more than a decade and have 2,00,000+ satisfied customers. Hosting Raja also provides the best-in-class technical support for their customers via phone, chat, email and also ticket system. Their top priority is that all their customer's issue has to be resolved.
In Hosting Raja they provide 99.9% server uptime has all their server located in India. So you can relax that your website will load very quick.
You can also upgrade your plan as per your website need, for that you need to contact their support team and they will guide you enough. And if you are thinking to have a  separate VPS or Dedicated server Hosting Raja provide at an affordable price with amazing features. You can even migrate your data to their server for free of cost.
Here are the few customers reviews who use Hosting Raja Shared Hosting plans:
Customers feedback: Awesome, I was not expecting such quick response. Good to know that Hosting Raja is providing such support.
You can also read Hosting Raja Customers reviews here-
Hosting Raja has been my trusted website hosting provider for the past two years.

I am thrilled with their exceptional service. I cannot praise them enough for their outstanding customer support, Whenever I had technical issues or queries about my server, their support team was readily available through various channels, offering prompt and knowledgeable assistance. Their dedication and patience in resolving my problems truly set them apart in the hosting industry.

The performance and reliability of Hosting Raja's services have been excellent. Since migrating my website to their platform, I have experienced a significant improvement in loading speed, leading to enhanced user experiences and better search engine rankings. Downtime has been virtually nonexistent, giving me peace of mind knowing that my website is in safe hands and backed by a robust infrastructure.

Hosting Raja's diverse range of hosting plans is another aspect that I find impressive. They offer solutions tailored to various needs, whether you have a personal blog or a large e-commerce website. The best part is that their plans are competitively priced, making them a budget-friendly option without compromising on quality.

The hosting Raja control panel is user-friendly and makes website management easy. Setting up domains, email accounts, and applications is effortless with its intuitive interface. Even for someone like me with limited technical knowledge, I have found it easy to navigate and manage my website seamlessly.

In conclusion, I wholeheartedly recommend Hosting Raja to anyone seeking reliable and top-notch hosting services. Their stellar customer support, high-performance infrastructure, and competitive pricing make them a leading player in the industry. Whether you are a seasoned webmaster or a beginner, Hosting Raja is the perfect choice to host your website with confidence. I am delighted with their services, and I am sure you will be too. Give Hosting Raja a try, and experience the excellence they offer in web hosting solutions. — Kani Sbt

I have been a longtime shared hosting customer.

I have been a loyal user of Hostingraja's shared hosting service for an extended period, and my experience has been consistently positive. One aspect that truly stands out is the remarkable efficiency and responsiveness of both their technical service and sales teams. Whenever I encounter any issues or require assistance, their teams spring into action promptly, guaranteeing that my concerns are addressed with extraordinary quickness and clarity.

Furthermore, the sales team's efficiency in guiding me through the hosting packages and solutions available has been amazing. They exhibit a deep understanding of their offerings and tailor their recommendations to suit my specific requirements, making the selection process seamless and tailored to my needs.

With Hostingraja, I have found a hosting service that not only excels in technical reliability but also values customer satisfaction. The combination of their swift issue resolution, expert technical support, and attentive sales guidance makes them a standout choice in the realm of shared hosting services. Based on my extensive experience, I wholeheartedly recommend Hostingraja to anyone seeking reliable and customer-supportive shared hosting solutions. — Mercury Jyotish