VPS stands for a virtual personal server. VPS hosting refers to hosting a website on a server which is partitioned into multiple separate virtual servers. In VPS it runs its own copy of an operating system, where you will get a root access to your server.In Hosting Raja they provide the latest VPS Hosting features at an affordable price. Hosting Raja provides fully managed, performance-tuned Secure Servers for their customers. These fully managed VPS Hosting services are the most popular type of web hosting services in India. Particularly because of its low cost and the power of a dedicated server. It is much useful for a small business where they get better reliability and security.
As mentioned above regarding fully managed, performance-tuned Secure Servers which will be much helpful for Small-scale business, Hosting Raja provide VPS Hosting at a good price where everyone can afford to host their website.
HostingRaja is a popular VPS Hosting provider in India. They have different VPS plans according to customer requirements. We have specifically created this page so that VPS customers of HostingRaja can come and express their views and opinions about their services. Check the reviews of present customers and buy your VPS plan.
Here is the VPS Hosting Plans from Hosting Raja: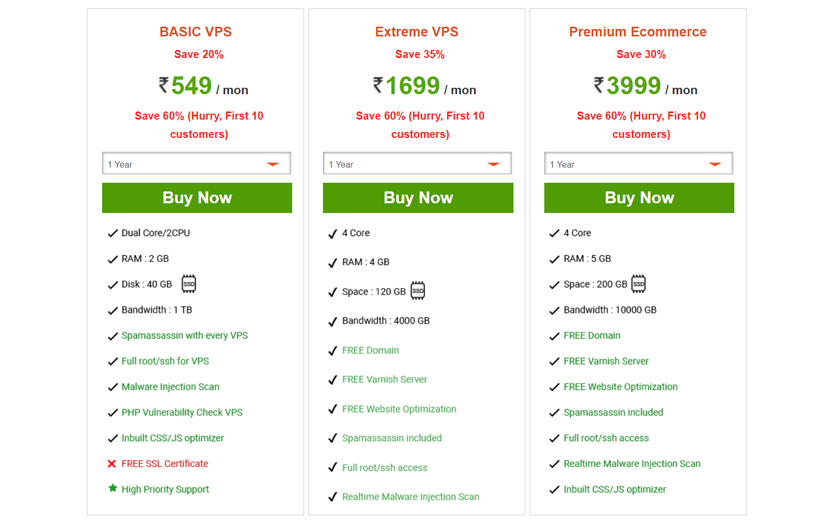 Hosting Raja is one of the leading company who has been providing the best VPS Hosting service to its customers. In their VPS hosting, they provide free Varnish Cache where it loads your website 10x faster. With this their VPS Hosting provides few advantages like High traffic scalability, Highly secure, Lower maintenance, Full root access, Customizable, Inclusive WHM/control panel and full SSD storage, Dedicated resources, 99% uptime, 24/7 managed support, 1 free dedicated IP.
In terms of customer support, Hosting Raja has dedicated technical support team who are 24/7/365 days ready to resolve their customer's issues. You can contact their customer support via phone, chat, and email. They also have a ticket system for an easy handle and resolving customers issues.
Here are the few customers reviews who is using Hosting Raja VPS Hosting Service:
Customers feedback:
1.HostingRaja Customer Reviews
Client Name: Atul
Ticket id: 679103
Engineer Name: Ajit K
Feedback: Very good. The support person solved my issue in a fraction of seconds.
Rate: Awesome
2.HostingRaja Customer Review
Client Name: Geetha
Ticket id: 609814
Engineer Name: Abhi
Feedback: Very Good. Thank you for your kind rescue operations.
Rate: Awesome
Read more Hosting Raja Customers Feedback here-